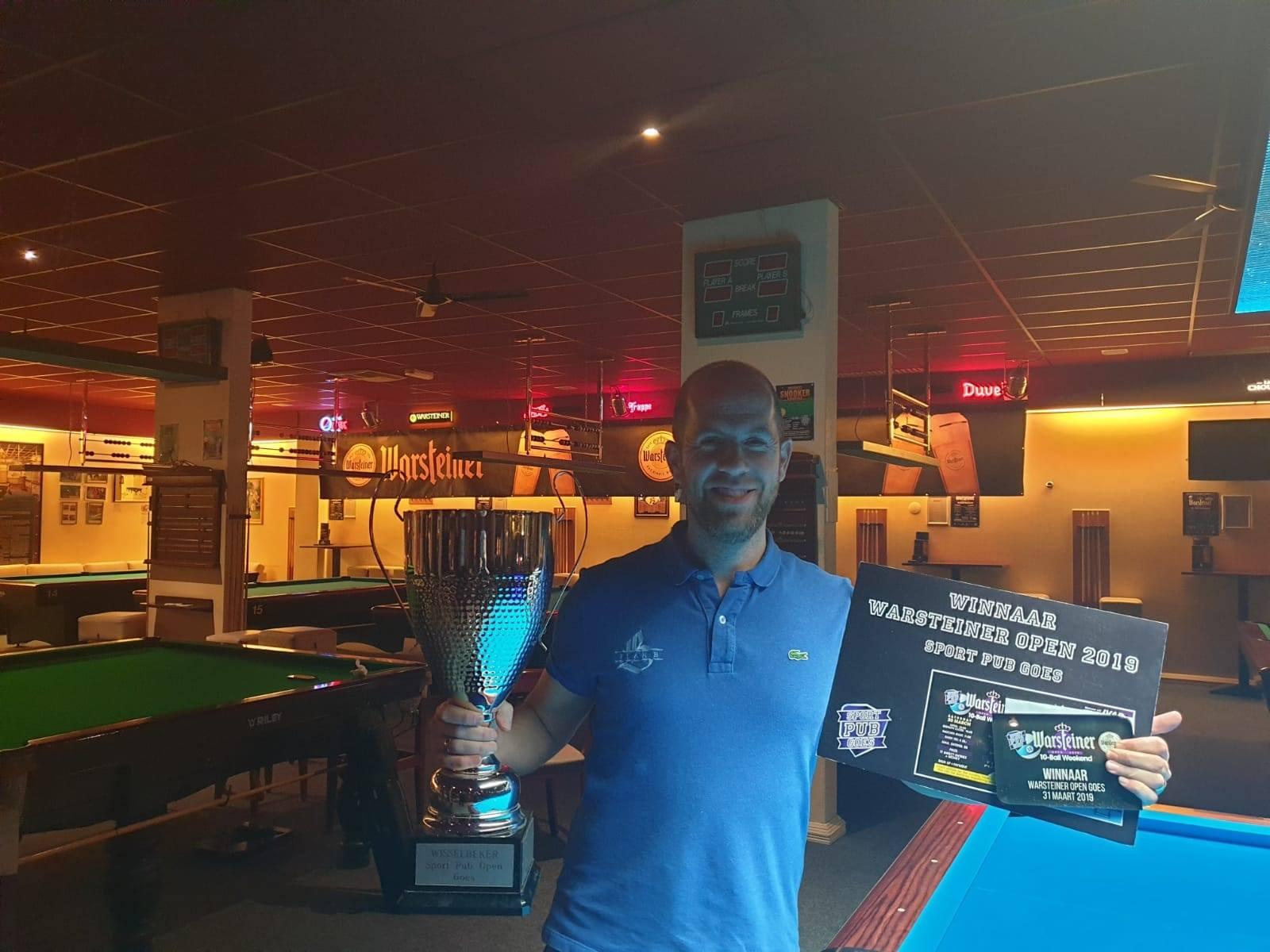 Nick van den Berg 2019 (last winner) 


In the weekend of 4 and 5 September 2021, Sport Pub Goes will hold its annual open tournament.
This tournament will have a prize fund of up to €6000,00 during the weekend. The Main Event of Heineken Open Goes 2021 will be played on 13 Gabriels tables, which are fitted with Tournament Blue Iwan Simonis cloth and we will be using Super Aramith Pro sets.
During the entire event we will play 10-Ball. On saturday there will be a qualification event with prize money. On sunday we will play the main event. During the whole weekend it will be Alternate Break. We will be using Magic Racks during the main event. We are proud to announce that Nick van den Berg has confirmed his participation and will defend their title.
Entry to the Main event on sunday is €80,- (30 Spots). The entry fee for the qualifier on saturday is €30,-. This event is a TOP-event on the Pool Ranking Nederland.
Livestream: OrangeForks

Saturday Qualifier event: Heineken Open Goes 2021 Qualifiers (cuescore.com)

Reserve list saturday: Reservelijst Kwalificatie (sportpub.nl)

Sunday Main Event:Heineken Open Goes 2021 Main Event (cuescore.com)

Reservelist sunday: Reservelijst Main Event (sportpub.nl)
----------
MAIN EVENT
----------
Date: 5 September 2021
Venue open: 9:00
Signups close: 4 September 19:00
Matches start: 10:00 & 11:00
Entry Fee: €80,-
Max. Direct Entries: 30
Discipline: 10-Ball
Break: Alternate Break, Magic Rack
Racelength: Race to 7, One Loss side starts with Race to 6
Format: 64DKO 16SKO
Prizemoney - Based on 48 participants:
1st €1200,-
2nd €800,-
3rd €500,-
5th €300,-
9th €150,-

------------------
SATURDAY QUALIFIER
------------------
Date: 4 September 2021
Open: 9:00
Signups close: 9:45
Matches start: 10:00
Entry Fee: €30,-
Max. Entries: 60
Discipline: 10-Ball
Break: Alternate Break, Magic Rack
Racelength: Group phase race to 5
Format: 12Groups - 36 Winner SKO, 24 Loser SKO
Prizes - Based on 60 Participants:
Winnerbracket:
1st €180,- + Direct Entree
2nd €100,- + Direct Entree
3rd € 50,- + Direct Entree
5th € 30,- + Direct Entree
9th Direct Entree
Loserbracket:
1st € 50,- + Direct Entree
2nd € 25,-